A specialty sweets and confectionary store born in Kinosaki Onsen. Kinosaki Sweets is a familiar shop for the locals of this charming, old-fashioned hot spring village called Kinosaki Onsen. Kinosaki Sweets has an ambition to bring a smile and pleasant memories to the many visitors to Kinosaki Onsen through their quality ice cream, gelato, cakes, and more.
Kinosaki Onsen is located in an area called "Tajima". Legend has it that the village of the ancient god of sweets is located here. Near Kinosaki Onsen you will find Nakashima Shrine. Here the god of sweets, named Tajimamori, is enshrined. Thus Kinosaki Sweets takes great pride in originating in and cultivating their ingredients in a rich land where the history of Japan's sweets began.
Should you be in the area in April, check out Visit Kinosaki's list of events for information on the annual Sweets Festival. Shops from all over the area and the country gather for the two-day event. On the first day, numerous booths line the main street of Toyooka (10 minute train ride / one station from Kinosaki Onsen Station) selling various sweets, desserts, and confectionaries.
Three Locations
Kinosaki Sweets Main Store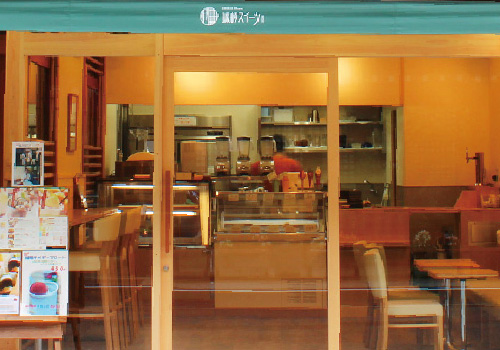 In front of Goshono-Yu Onsen
527 Yushima, Kinosaki-cho
Toyooka-shi, Hyogo 669-6101
OPEN: 9:40 am to 5:40 pm
CLOSED: Thurdays
Kinosaki Gelato Cafe Chaya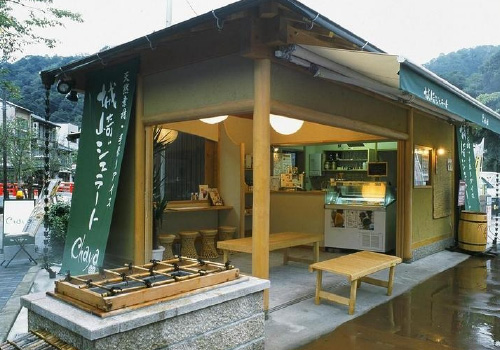 Near the foot of Kinosaki Ropeway
587 Yushima, Kinosaki-cho
Toyooka-shi, Hyogo 669-6101
OPEN: 9:40 am to 5:30 pm
CLOSED: Thurdays
Kinosaki Coffee – Miharashi Terrace Cafe
Located at the top of Kinosaki Ropeway
806-1 Yushima, Kinosaki-cho
Toyooka-shi, Hyogo 669-6101
OPEN: 10:00 am to 4:00 pm
CLOSED: 2nd & 4th Thursdays
Sweets loved by Kinosaki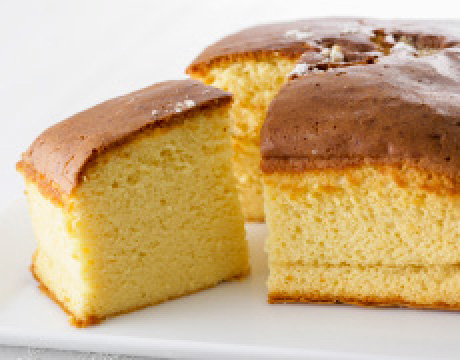 Rice Flour Castella (sponge cake)
Japanese refined sugar gives this natural rice flour castella its elegantly sweet flavor. Each one is carefully baked by hand in special block molds made of natural wood. The faint scent from the wooden boxes that the cakes retain is unique to their handmade quality. The cakes retain a faint scent from the wooden boxes, something unique to their handmade quality.
The fresh local eggs also give the cake a nostalgic taste.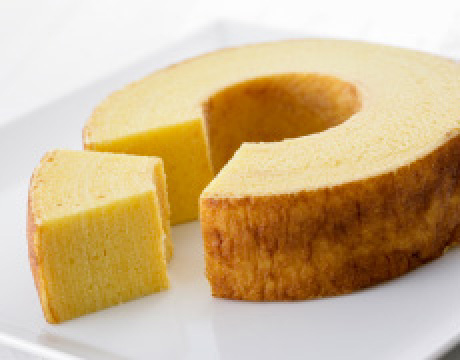 Rice Flour Baumkuchen
Carefully-selected ingredients give this a classic flavor. It is a kind of layered cake, called "baumkuchen" (meaning "tree cake" in German) due to its resemblance to tree rings when sliced. This cake is carefully baked to retain its moisture.
Environmentally friendly Stork Natural Rice, fresh local eggs, and other carefully-selected ingredients are used and baked layer by layer.
Large and small sizes are available.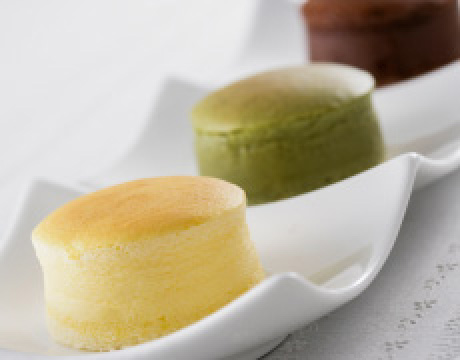 Rice Flour Cheesecake
Kinosaki Sweet's craftsmen bake their cheesecakes one by one.
Homegrown environmentally friendly rice and meticulously-selected aromatic cheese give the dough satisfactory taste and texture.
There are three flavors: vanilla, matcha (green tea), and chocolate.
Kinosaki Gelato
Kinosaki Sweet's gelato is handmade from natural ingredients. There are several flavors to choose from. Enjoy your favorite or try a new one while strolling around the hot spring town.
Matcha
(green tea)

High-grade green tea from Kyoto and Uji. A rich yet mellow flavor.

Kuromame & Yomogi
(black soybean & mugwort)

Mixture of fragrant yomogi and mildly sweet black beans.

Genmai Caramel
(brown rice caramel)

The organic local brown rice compliments the caramel aroma and flavor.

Vanilla

Natural vanilla beans give this a luxurious flavor, with a creamy finish that is light and elegant.

Strawberry Mille-Feuille

Homemade strawberry jam with white chocolate and crispy piecrust bits in vanilla ice cream.

Gateau Chocolat

Chocolate ice-cream made with Belgian chocolate.

Yuzu
(citrus fruit)

The unique citric scent of yuzu gives this gelato a refreshing taste, and is a popular flavor.

Raspberry

The natural flavor and aroma of the raspberry is left as is, the raspberries' tartness undertone give this gelato a subtly sweet flavor also.

Mango

Made with the king of mangoes, "Alfonso Mangoes". A rich and fresh sweetness.

Fruit Mix

A fruity flavor. Made with lots of bananas, strawberries, apples, and mangoes.
Miharashi Terrace Cafe is a cafe with a great view, located at the top of Kinosaki Ropeway.
Enjoy a cup of Kinosaki special blend coffee while relaxing to a bird's eye view over the town and coastal area nearby. The cafe serves warabi-mochi, warabi-mochi parfait, miharashi dango and soft-serve ice cream. As well as Tajima beef and Yoka pork hot dogs.
Dedication to Quality
Kinosaki Sweets began by making baked sweets using local rice flour. Today, Kinosaki Sweets continues to make the most of the region's rich, natural surroundings by using local ingredients like eggs and milk in addition to local rice flour. They are particular about the farming methods used in producing the ingredients as well as the ingredients themselves to ensure that the final product is safe, reliable, and delicious. For example, the eggs are farm-fresh and from chickens that have been nourished and bred. These eggs make their baked sweets particularly fluffy.
The rice flour is produced from locally-grown "Stork Natural Rice". This is rice that is grown using environmentally-friendly farming methods, which aim to enrich the community and environment and to support the Oriental White Stork's recovery in the wild. The rice is grown with reduced use or free of pesticides.
Information listed below was last updated 04/2021 and is subject to change. Contact the business directly for updated information. Note, most businesses can only speak Japanese.
BUSINESS INFORMATION
Business Name

Kinosaki Sweets
Restaurant Type

Café, Sweets/Desserts
Business Hours

9:40 - 17:40 (Main Store by Goshono-Yu Onsen)
9:30 - 17:30 (Kinosaki Gelato Chaya by Ropeway)
Holidays / Closed

Thursdays
Telephone

0796-24-3099
Address

Main Store by Goshono-Yu Onsen
527 Yushima, Kinosaki-cho, Toyooka-shi, Hyogo Prefecture 669-6101

Kinosaki Gelato Chaya by Ropeway
857 Yushima, Kinosaki-cho, Toyooka-shi, Hyogo Prefecture 669-6101
Average Price Range

Starting from about 500yen~
Payment Accepted

Cash Only
Language Support

Sorry, but only Japanese is spoken.
SEATING INFORMATON
Style

Casual
Space / Facilities

Indoor & outdoor seating
MENU
Menu Languages

Japanese / English
OTHER
Parking

Please use the public parking lots nearby (Note: these are pay lots)