Get the most out of your visit and gain a deeper connection with Kinosaki and the surrounding areas!
In order for guests to get the most out of their visit, we have formally trained local guides to be ready to support you during your stay. While being accompanied by a local guide, guests can gain a better understanding and appreciation of Kinosaki Onsen and the surrounding areas.
Who are our local guides?
Our local guides are English speakers that are trained in conducting detailed tours throughout Kinosaki Onsen and the greater Kinosaki Onsen area. All registered guides have completed training administered by the Toyooka Tourism Bureau.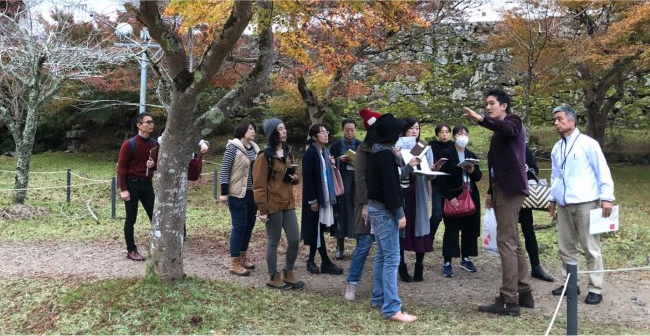 Meet our guides
Name Itsuko

About this guide Itsuko is a big fan of Japanese sweets; their mild sweetness, colors, shapes, textures, and poetic names. These sweets, often served at tea ceremonies, are the reason why she practices tea ceremony every week. And as you might have known, tea ceremony is all about hospitality! Born and raised in Hidaka, the southern part of Toyooka City, Itsuko has strong ties to the Tajima region and has many personal memories from there. She currently lives in Nara, after previously living in Kyoto, and visits Tajima on a regular basis.

Name Kaori

About this guide From an early age, Kaori has been familiar with Japanese traditional performance, but also loves jazz and John Lennon. She started guiding to show the beauty of traditional Japanese culture to people all over the world. Kaori is also certified in teaching Japanese flower arrangement and can speak Korean. She hopes to show others the beauty of the Tajima and Tango regions!

Name Miki

About this guide Miki is from Himeji City. She married a fishmonger in Kinosaki Onsen and moved to Toyooka City about 20 years ago. She loves Toyooka very much, and is a citizen writer for the city portal site "Tonderu Local Toyooka" where she conveys the charms of Toyooka City. She is currently raising three children while working at a fish market.

Name Sachi

About this guide Sachi is looking forward to conducting cultural exchange with many different people! She would be happy to show you both delicious and interesting Japanese culture through her love of Japanese tea.

Name Shinobu

About this guide Shinobu is experienced in many facets of traditional Japanese culture. She loves kimono and can help others wear it correctly. When she was younger, she learned traditional tea ceremony from both Omotesenke and Urasenke, two of the three main schools of tea ceremony. Shinobu also studied calligraphy and has hachidan, the highest ranking in the calligraphy system. She also loves to travel!

Name Zach

About this guide Zach is from the USA and he's been living in Japan since early 2016. His first year was in Aomori and he's been in Toyooka after that. He lives in Izushi so he can show you around the local area. He enjoys visiting shrines and temples and hiking in the mountains. He's looking forward to exploring with you!

Name Teina

About this guide Teina is a curator of the Genbudo Museum and specializes in rocks and minerals. She moved here due to her fascination with the museum's vast collection of stones and with the natural richness of the Tajima region. She loves to be in nature, regularly going outside to gather stones or visit archaeological sites. She can play the recorder, the Japanese bamboo flute, and likes to make traditional Japanese collages. There are many geological sites in San'in Kaigan Global Geopark in which you can enjoy stone gathering. Teina hopes to show you the culture and beautiful nature based in the regional stones.

Name Takako

About this guide Takako was born and raised in Toyooka City until university. After she graduated, she returned to her hometown and worked for an International Exchange Association, and now belongs to a non-profit that supports foreign residents in the Tajima region. Takako has interacted with many people from overseas in her life, and thus would like to take advantage of those experiences to explore Toyooka City and the Tajima region together with you.
Available guided tours